Services We Offer

Web Design and Development
With all the new tablets, mobile devices, and screen resolutions, it's extremely important to make sure your site looks great across all platforms. The websites that we make use the latest technologies and design specifications to ensure optimal looks, performance, and consistancy. In fact, if there is any part of the site that you are unhappy with before the final approval, we will fix it for no additional charge. The design and setup process is extremely simple, and we work very quickly to make sure you start getting online visitors as soon as possible.

Search Engine Optimization
With our experience in search engine optimization, you'll be glad to know that you don't have to pay your way to the top listings. Since search algorithims are constantly changing, our SEO is included in our monthly hosting/maintenance packages so we can make adjustments as necessary. There is no promise (regardless of what "search engine consultants" may tell you) to have the top ranked position at all times. We will, however, monitor your site's performance on a regular basis to make sure the numbers stay consistant. If we should see any decline in website traffic or search engine rankings, changes will be made to boost it back up to where it needs to be.

Logo and Print Design
Recently we have been getting more requests asking if we can make custom logos, and invitations for wedding, baby showers, and school events. We realize that during the stressful times of the event itself, it can be very easy to put things like this off to the last minute. No worries, though. Just let us know what you need and we will take care of the rest. Unlike most printing companies who charge expensive hourly design fees on top of the print cost, we will save you time and money by providing you with the design file first. You will receive an email with a few ideas that we come up with, and once approved we will email you the file (or add it to a disk). Simply go to the print comany of your choice and let them know you are ready for them to start printing!
3 questions most asked...
Computer Issues?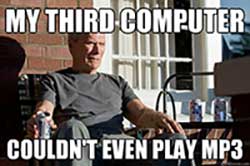 If We Can't Fix It... No Charge!
Ever been to a computer repair shop and found out that the price to fix your computer was more than a new computer? We have. So we decided to add minor computer repairs to our list of services with a cost that's usually less expensive than going out to eat at your favorite steakhouse. And if we can't fix it, you don't owe us a penny!
If you think you're computer is infected with a virus or spyware, or if it's just slowing down in it's older years, give us a shout. While we are not experts at major computer repairs, we will still be glad to give your computer a diagnosis and get it running smoother for an extremely reasonable fee.